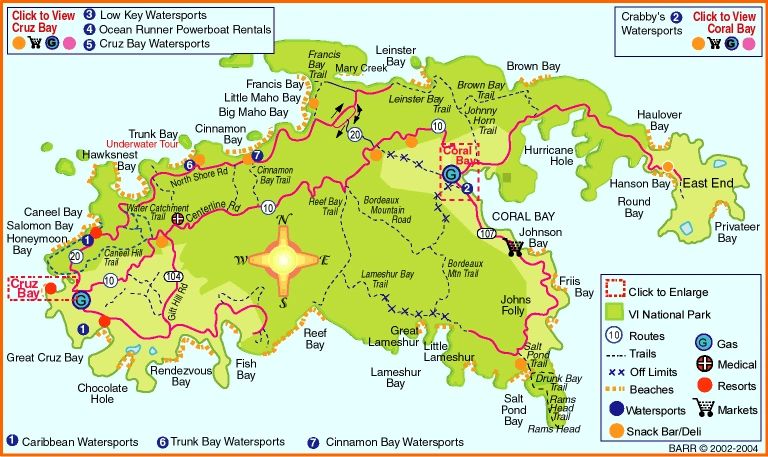 Villa Carolina is located at 6-3-80 Majestic Mile - just above Coral Bay, right off of 'Hwy 10' (Centerline Rd)



***Checkout the "Google Earth" image of St. John here***

***For a larger map of St. John, please click here***


What's nearby?

Beaches Restaurants/Others ____

Francis Bay - 10 minutes Love City Market - 5 minutes
Maho Bay - 10 minutes Lilly's Gourmet Market - 5 minutes
Cinnamon Bay - 12 minutes Ram's Head Trail - 12 minutes
Trunk Bay - 15 minutes Johnny Horn Trail - 5 minutes
Caneel Bay- 20 minutes Skinny Legs - 5 minutes
Vie's Beach-12 minutes Island Blues - 5 minutes
Salt Pond Bay-12 minutes Shipwreck - 7 minutes
Lameshur Bay-15 minutes Aqua Bistro - 5 minutes
Haulover Bay-15 minutes Miss Lucy's - 12 minutes
Hawksnest Bay - 17 minutes Donkey Diner - 5 minutes


Villa Carolina is located toward the eastern side of St. John, less than 5 minutes up the hill from Coral Bay. It's situated in a perfectly central locale that allows visitors to easily enjoy both sides of the island, convenient to both Coral Bay and the North Shore Beaches. The area is known as Upper Carolina and is about a twenty minute ride from Cruz Bay and the ferry dock. The roads are fully paved and access to the villa is granted by traversing several steep switchbacks. This top of the island retreat sits on the "Carolina Ridge", and its' highly elevated location affords expansive views of Coral Bay, the Carolina Valley, and most of the British Virgin Islands. The entire east side of the property is bordered by the Virgin Islands National Park and allows the peace and serenity of old St. John to unwind your mind. From the pool deck you gaze directly at Norman Island, which is the home of the famous "Willie T", and also the subject of Robert Lewis Stevenson's book entitled 'Treasure Island'.

Francis Bay and Maho Bay on the North Shore are less than ten minutes and Cinnamon Bay is just another reggae tune over the hill. Leaving the villa to the left and five minutes down the mountain toward Coral Bay, be sure not to miss a laid back burger at Skinny Legs or a waterfront Painkiller(the Virgin Island's margarita) at Island Blues. You'll pass the Domino gas station and "Love City" Market on the way. Love City is a great spot for basic groceries such as rum, water, milk and bread. All the necessities! Across from Island Blues is a new, plush, tropically landscaped plaza called Coco Lobo. There's a sweet island style tiki bar, perfect for a Painkiller, complimented with an outdoor dining area. This is also the location of Lilly's Gourmet Market. Cruising onward over the oceanside vistas, you will wash up on Shipwreck Landing. It's a quiet and casual dinner spot with a bar, and the perfect place to brake for another Painkiller (not that we're promoting drinking and driving:) All of these establishments have live music on any given evening. Proceeding in the same direction will lead you to a picture postcard called Salt Pond (start of the amazing Ram's Head trail) and eventually to Lameshur Bay. Lameshur is the end of the road and if you time it correctly, you could be the only people in sight. You'll pass Miss Lucy's on the way, a long established waterfront restaurant famous for its' Sunday jazz brunch.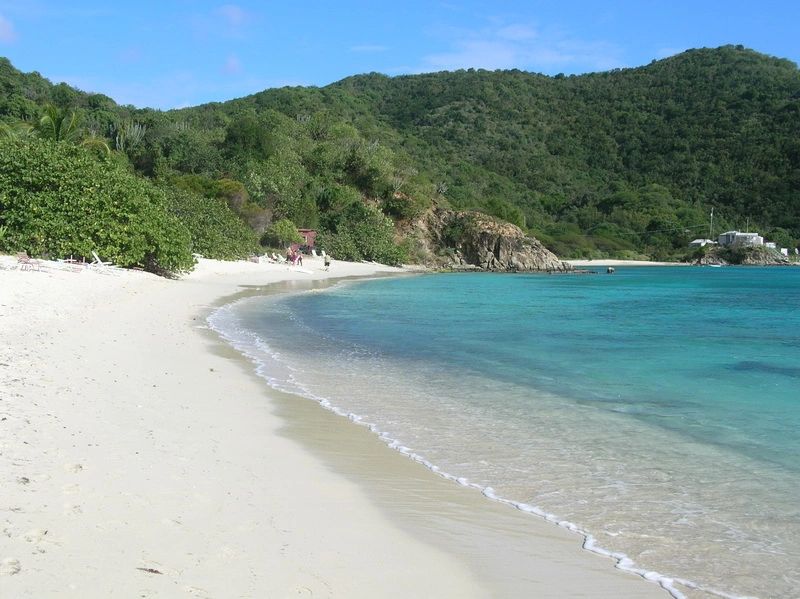 Vie's Beach - just a short drive out the East End from Villa Carolina


Turning around and heading back toward the villa and East End, you will hit the speed bumps at Skinny Leg's and a great souvenir stand called the Jolly Dog (also a 2nd location next to ShipWreck). They have cool t-shirts, hats, and island made crafts. Check out the Donkey Diner for a fantastic breakfast on selected days. Also, the Virgin Islands best reggae band, "Inner Visions" , plays here once a week. I recommend journeying onward to take in the scenic panoramas above Hurricane Hole and discovering your adventurous side for a clothing optional swim wherever it looks inviting, which would be everywhere. Check out Vie's Snack Shack along the way and why not put that four wheel drive to use? Wander off the beaten path and marvel at the views of Tortola just across Drake's Passage. However you chose to spend your day, I'm sure you'll be making memories away from the hustle and bustle of town. You know, it's so crazy in Cruz Bay.

Now back to the villa to fire up the blender, take a swim, and cool out mon!